Deiter Bros. Does Propane!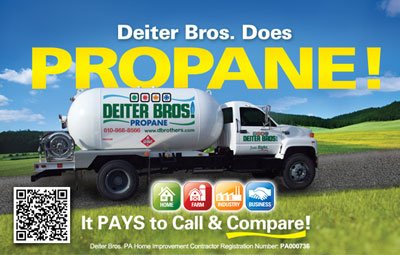 Check out our Bundled Benefits for Heating Oil & Propane Customers.  If you use both Propane & Heating Oil:
DUAL FUEL Pricing Discount: You'll get an UNBEATABLE price on BOTH your heating oil and your propane... SAVE BIG$ ON BOTH!
FREE Annual Tank Safety Checkup ($45 Value1) PLUS Reward Points for all purchases & MORE!
EXCELLENT Service from the #1 ranked heating / cooling/ energy team in the Lehigh Valley
Deiter Bros. Heating Oil Customers:
REFER A PROPANE USER and you'll earn $50 worth of FREE heating oil for each who will become a new Deiter Bros. Propane Customer* AND you'll earn valuable Reward Point
SAVE ON ELECTRIC BILLS by switching to propane for HOT WATER, HEATING, COOKING & MORE.
Not a Deiter Bros. Customer Yet? SIGN UP TODAY
* For customers using more than 100 gallons of propane per year.