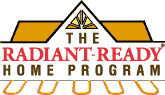 Get a Strong, Competitive Edge at Minimal Cost!
Radiant Heat is the most comfortable, cost-effective way to heat today's homes. That's why it is also today's fastest growing type of indoor comfort system for all homes. Now you can gain a competitive edge by providing the option of RADIANT-READY HOME FEATURES AT A VERY AFFORDABLE PRICE.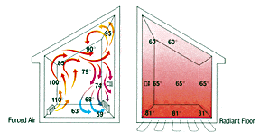 Radiant Heat provides even, clean heating with floor surfaces comfortably warm to the touch — whether covered with carpet, tile, hardwood or linoleum. Along with increased comfort are energy cost savings up to 40%. Radiant Floor Heat is ideal for both new construction and remodeling projects. Plus, Radiant Heating can use any energy: NATURAL GAS, ELECTRICITY, HEATING OIL or PROPANE.
Here's What Deiter Bros. Can Do:
Our Radiant Heat professionals will install Radiant Heat in the basement area of home prior to concrete pour.*
Should the homebuyer want the Radiant System completed with the boiler, circulation and other systems to function as the home's primary heating system, Deiter Brothers will work with you as the mechanical contractor. Again, we will provide preferred pricing so that a modern, cost-effective system can be sold to the homebuyer at a very competitive price.


The finest, time-tested tubing by Wirsbo will be used throughout.


We can install Radiant Heat under floors for indoor Radiant Heat and in driveways, walkways and other outdoor areas to provide a snowmelt system option.


Sales materials on the many comfort and cost advantages of Radiant Heat will be provided for your use.


The installation options will be provided to you, the homebuilder, at a price below market value. You can then offer it to your homebuyer at a very competitive price.


Should the homebuyers opt to complete the Radiant system at any later date, Deiter Brothers will be ready to serve them.
For More Facts on Radiant-Ready Homes, contact Deiter Brothers today. We will be happy to show you examples of the Radiant Heating Systems we have installed and to quote you prices that will be of mutual benefit to you and your customers.