PA & NJ Fuel Oil Delivery & Propane Delivery
Schedule Oil Delivery Schedule Propane Delivery
As one of the leading Local Heating Oil Companies serving the Lehigh Valley, Deiter Bros. maintains on-site storage of and Propane at our three locations in Bethlehem PA and throughout the region. This storage volume plus additional out-of-region storage provides Deiter Bros. with volume buying power and assured Oil Delivery Service and Propane Delivery Service to our customers in Pennsylvania and New Jersey regardless of market conditions.
Our fleet of more than 30 Propane and Fuel Oil Delivery Vehicles is equipped with computerized flowmeters for the most accurate dispensing in the Lehigh Valley and the industry today. All delivery men are dispatched on a grid route system to optimize their familiarity with customer locations in Bethlehem PA and surrounding PA and NJ areas. Automatic Delivery of Propane and Heating Oil is available on an optional basis. Using the proven "degree day" system, we know when your Lehigh Valley home or business needs Propane or Heating Oil, and deliver accordingly.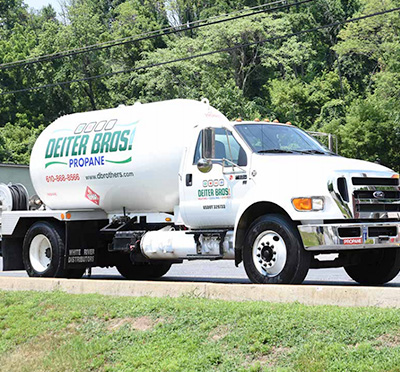 Most customers prefer our Automatic Delivery system because it relieves worries about running low on Heating Fuel or Propane for their homes in Bethlehem PA and the surrounding Lehigh Valley area.
Deiter Bros. is a quality-conscious Heating Oil Supplier and Propane Supplier. As such, we purchase only the highest grades of Fuel Oil, Diesel Fuel, Gasoline, and Propane. We test our products and clean all storage vessels on a regular basis. A high-grade additive is used in our Heating Fuels to help burners run cleaner and maximize fuel efficiency. We also have launched our EnviraFuel "The Cleaner, Greener Heating Oil", a next generation Heating Fuel with the environment in mind.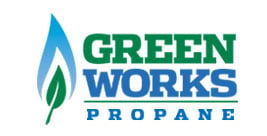 Because Deiter Bros. has service locations in Bethlehem PA and throughout the Lehigh Valley, customers are assured of timely Fuel Oil Deliveries and Propane Deliveries and fast, 24 Hour Emergency Service. With the acquisition of GreenWorks Propane in 2012, Deiter Bros. expanded our Propane Delivery area we now deliver propane to even more areas of New Jersey.
All Deiter Bros. service men are equipped with a photo identification badge for our customers' security and peace-of-mind.
Deiter Bros. provides convenient and cost-efficient Fuel Oil Delivery and Propane Delivery to customers in Bethlehem PA and throughout our Service Area in the surrounding Lehigh Valley, including: