HVAC Financing
If you would like to apply for an energy loan to finance energy efficient improvements for your home, please click the link below:
EnergyLoan
The EnergyLoan is a special financing program offered by AFC First as a FannieMae Approved Energy Loan Lender and in cooperation with our Approved Contractor/Dealers. It is an unsecured loan program with preferential interest rates and terms designed to make fast and affordable financing from $1,000 to $20,000 available to homeowners for most types of energy efficiency improvements for your home.

Keystone HELP
The Keystone Home Energy Loan Program (HELP), available to consumers only for work performed by Approved Contractor/Dealers, is fast and simple, preferred rate financing with special low rates for ENERGYSTAR® and other qualifying improvements exclusively for Pennsylvania homeowners.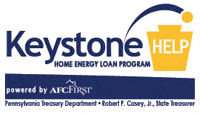 Service Finance Company
Service Finance Company is an approved FHA Title I Lender and a fully-licensed sales finance company operated by banking and home improvement professionals with more than 100 years combined experience. Service Finance Company provides convenient installment financing solutions for HVAC, central air conditioning, boilers, oil and gas furnaces, permanently installed generators, heat control devices, fuel tanks, ventilation systems, water heaters, and other home improvement products and services to Pennsylvania and New Jersey homeowners.