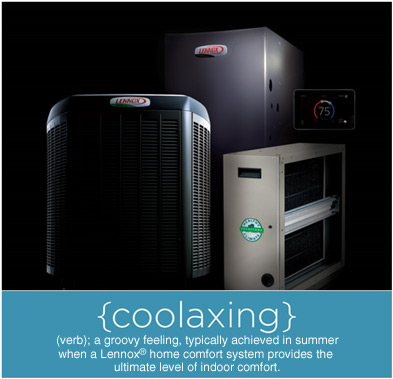 Take the heat out of summer with the precision comfort of our {coolaxing} deal. When the thermometer is off the charts, you know that summer has truly arrived. Keeping your cool through months of constant heat can be a challenge. Luckily, our air conditioners from Lennox
®
are up to that challenge! The most precise and efficient air conditioner you can buy* can keep you cool, comfortable and energy efficient all summer long.
Call now and save with
REBATES UP TO $1,500** OR SPECIAL FINANCING OPTIONS WITH APPROVED CREDIT*** on qualifying equipment
.
Start With Up To $1,200 In Rebates.**

Save on a complete qualifying Lennox® home comfort system that includes a gas furnace or blower coil, an air conditioner or heat pump and thermostat. Enjoy additional rebates when you purchase an iComfort® S30 Smart thermostat, iHarmony® zoning and a PureAir™ system.
Get Up To A $100 Rebate On A Wi-Fi Thermostat.*

Save now on the iComfort® S30 and save every month on utility bills. Anytime your routine or weather changes, the iComfort S30 smartly adapts to reduce your energy costs.
Get Up To A $100 Rebate On Zoning.*

Enhance your comfort and savings with iHarmony® zoning, a major advance in precision climate control.
Get Up To A $100 Rebate On PUREAIR™.*

Enjoy more savings and fewer pollutants with a PureAir™ system, which cleans the air inside your home better than any other single system you can buy.
OR

, A LIMITED-TIME FINANCING OFFER***
* Efficiency claim based on comparison of air conditioning and heat pump products' SEER as published in AHRI (January 2015). Actual system combination efficiency may vary; consult AHRI for exact system efficiencies. Precision claim based on the cooling capacity range of the XC/XP25-036 units as compared to equivalent-sized competitive variable capacity compressor units.
** Some restrictions apply. System rebate offers range from $100-$1,200. Rebate offer is valid June 25, 2018 through August 3, 2018 with the purchase of qualifying Lennox products. Cannot be combined with any other offer. Additional add-on rebates for iComfort® S30 Thermostat, iHarmony® Zoning System and PureAir™ Air Purification System valid with a qualifying system purchase only. See your participating Lennox dealer for complete details.
*** Financing available to well qualified buyers on approved credit. Financing is subject to credit requirements and satisfactory completion of finance documents. Contact Deiter Bros. at 1-800-DEITER-1 for details.