HVAC Service Offerings in Lehigh Valley, PA | Deiter Bros.
Stay safe and warm in Lehigh Valley, PA & NJ with expert fuel oil and propane delivery and heating services. Learn about Deiter Bros. in Bethlehem, PA!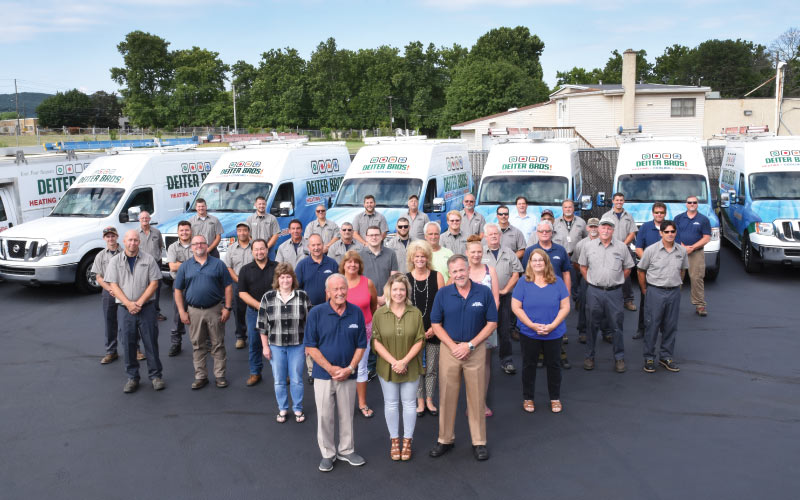 Heating Service & Fuel Delivery to Keep Your Lehigh Valley Home Safe
For more than 90 years, Deiter Bros. has been providing expert home comfort services to the residents of the Lehigh Valley. When it comes to fuel oil delivery, propane delivery, and HVAC service, we're the team you want to work with. Contact us today, or keep reading to learn more about the expert HVAC service we perform and the quality fuel delivery we provide.
Our HVAC, Propane & Oil Service Offerings
Though we started out by delivering ice blocks to PA residents, we've grown for nearly a century and now represent a team of expert HVAC technicians and fuel delivery drivers who can fulfill your energy needs at a price you'll love. Here are just some of the services we provide our valued PA & NJ customers:
Home Comfort Products & Services:
· Reliable Fuel Oil & Propane Delivery
· Fuel Oil & Propane Payment Plans
· Pacific Pride, Onsite, and Fleet Fueling
· Air Conditioner Installs & Repairs
· Furnace & Boiler Installs & Repairs
· Annual HVAC Efficiency Tune-Ups
· Water Heaters, Generators & More
· FAQs, Blogs & Refer-a-Friend Discounts
· Expansive Service Area & Customer Service
· User Testimonials & Online Community
· Various Equipment Maintenance Plans
· Commercial Services & Much More!
Our Fuel Oil and Propane Delivery Area
Deiter Bros. provides consistent, reasonable, cost-effective rates for fuel oil delivery and propane delivery in the Lehigh Valley area. Our range spans more than 150 towns including Allentown, Northampton, Danielsville, Lehighton, Stroudsburg, Tannersville, Wooddale, Andover, Jefferson, Long Valley, Far Hills, East Amwell Township, Alexandria, Allentown, Bethlehem, and New Smithville. To view our entire PA & NJ fuel delivery service area, check out the map on this page.
PA & NJ HVAC Service Area
Customers in and around Allentown and Bethlehem, PA can take advantage of our expansive HVAC service area. We provide quality air conditioning, heating, generator, and water heater services to customers in both Pennsylvania and New Jersey. Check out our entire HVAC service area on this web page and see if you live or work within our delivery range.
Join the Deiter Bros. Family Today!
We would love to consider you a valued member of the Deiter Bros. family of satisfied customers. If you'd like to become a NJ or PA customer, please register here in seconds. A representative will reach out and introduce you to all our features and services!